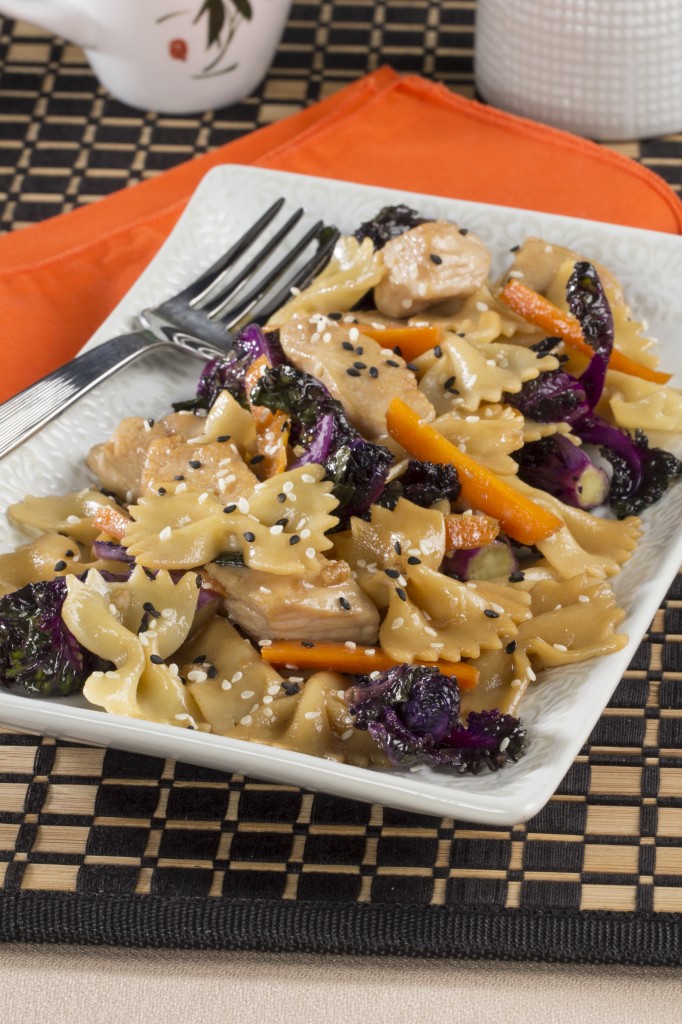 Serves 4
8 ounces bowtie pasta
1/3 cup + 2 tablespoons peanut oil
1/3 cup soy sauce
1/4 cup white vinegar
2 tablespoons sugar
2 cloves garlic, minced
1 1/4 pounds boneless, skinless chicken breasts, cut into 1/2-inch chunks
1 cup shoestring carrots
1/4 pound Lollipops® kale sprouts washed, stems trimmed and cut in half
1 tablespoon sesame seeds
Cook bowties according to package directions, drain and keep warm.
In a medium bowl combine 1/3 cup peanut oil, soy sauce, vinegar, sugar and garlic; mix well and set aside.
In a large skillet heat 2 tablespoons peanut oil over medium high heat until hot. Add chicken and carrots and cook for 6 to 8 minutes or until chicken is no longer pink.
Add kale sprouts and soy mixture to skillet and cook for 3 to 5 minutes or until kale begins to wilt. Stir in bowtie pasta and sesame seeds and cook until heated through.