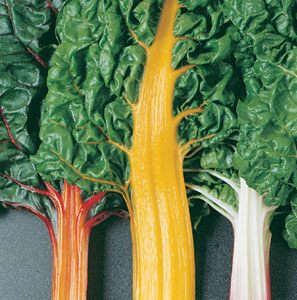 Bright Lights® is Salad Savoy Corp.'s answer to the growing popularity of leafy green vegetables, specifically Swiss chard, except we've added an array of breathtaking colors. This favorite of health aficionados, chefs, and juicers alike boasts over-sized leaves and beautiful stems and veins in a brilliant array of colors.
What Makes Bright Lights® Special:
VERSATILE: Bright Lights® is an exciting combination of great taste, brilliant color, and excellent nutrition that can be enjoyed steamed, sautéed, or even used raw in salads and garnishes.
COLORIFIC™ FRESH VEGETABLES: Available in brilliant colors ranging from gold and orange to pink, red, and white, with medium to deep green leaves featuring colorful veins
BUDGET-FRIENDLY: Our Bright Lights is reasonably priced, encouraging creativity and usage in a variety of ways.
CONVERSATION-STARTER: The striking and intense colors of Bright Lights® are sure to be a topic of conversation among your guests and customers.
NUTRITION: Bright Lights® are a great source of vitamin A and high in iron.