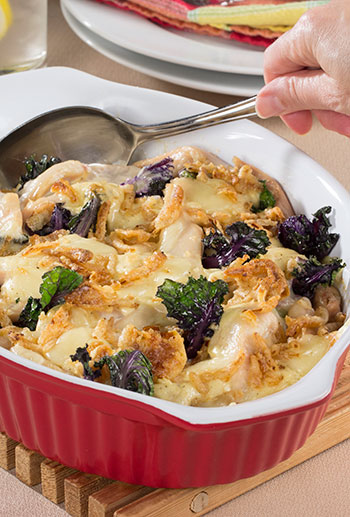 Serves 6
1 can (10-3/4-ounce) can cream of chicken soup
1/2 cup mayonnaise
1/3 cup milk
1/4 cup white wine
2 teaspoons Dijon mustard
1/2 teaspoon garlic powder
1/4 teaspoon salt
1/4 teaspoon black pepper
4 cups chopped Lollipops® kale sprouts, steamed
2 1/2 cups shredded cooked chicken
1 cup shredded Swiss cheese
1/2 cup French fried onions
Preheat oven to 350 degrees F. Coat an 8- x 8-inch baking dish with cooking spray.
In a large bowl, combine soup, mayonnaise, milk, white wine, mustard, garlic powder, salt and pepper; mix well.
Spoon 1/3 of cream sauce in the bottom of the baking dish. Layer evenly with half of kale, half the chicken and half of the cheese.
Repeat layers with 1/3 of cream sauce, remaining kale, chicken, cream sauce and cheese.
Top with French fried onions and bake uncovered 35 to 40 minutes or until hot.