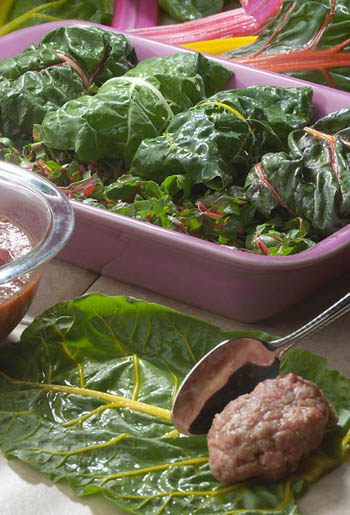 8 servings
If you're looking for a change-of-pace entrée, look no further! Here's an updated version of classic Stuffed Cabbage that's sure to solve any weekday dinner dilemma. See for yourself!
1 bunch Bright Lights, washed and trimmed
1-1/2 pounds ground beef
1/2 cup plain bread crumbs
1 egg
1 teaspoon salt
1/4 teaspoon pepper
1 can (16 ounces) whole-berry cranberry sauce
1 jar (28 ounces) spaghetti sauce
1 tablespoon lemon juice
1/4 cup packed dark brown sugar
6 gingersnap cookies, crushed
Cut the extended stems off 8 whole Bright Lights leaves and set aside the remaining part of the whole leaves. Chop the stem ends, along with any remaining leaves, and place over the bottom of a 9″ x 13″ baking dish.
Preheat the oven to 350°F.
In a medium bowl, combine the ground beef, bread crumbs, egg, salt, and pepper until well mixed. In a large bowl, combine the cranberry and spaghetti sauces, the lemon juice, and brown sugar; mix well.
Lay the reserved Bright Lights leaves on a flat surface and place equal amounts of the meat mixture at the stem end of each leaf. Fold up envelope-style and place seam side down on top of the chopped leaves in the baking dish. Pour the cranberry sauce mixture over the top of the rolls and sprinkle with the crushed gingersnaps.
Cover tightly with aluminum foil and bake for 55 to 60 minutes, or until tender and no pink remains in the beef.
DID YOU KNOW…that thanks to its oversized leaves, Bright Lights is perfect for this twist on Stuffed Cabbage? And since the leaves are so pliable, there's no steaming needed to make them easy to roll around the scrumptious filling!