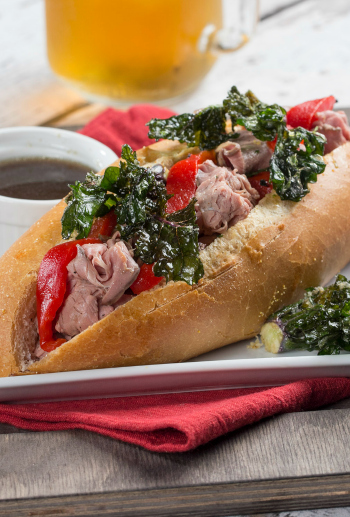 Serves 4
1-1/2 cups vegetable oil
1/4 cup all-purpose flour
1 teaspoon garlic powder, divided
1/2 teaspoon black pepper, divided
20 Lollipops® kale sprouts, washed and dried very well
Salt for sprinkling
1-3/4 cups beef broth
1 1/2 pounds thinly sliced deli roast beef
1/3 cup sliced roasted red bell peppers, drained
4 hoagie rolls, split in half
In a deep saucepan over medium heat, heat oil until hot.
In a shallow dish, combine flour, 1/2 teaspoon garlic powder, and 1/4 teaspoon black pepper; mix well. Coat Lollipops kale sprouts with flour mixture.
Place Lollipops kale sprouts in oil and fry 1 to 2 minutes, or until crispy. Remove with slotted spoon to paper towel-lined plate. Sprinkle lightly with salt and set aside.
In a large skillet over medium heat, bring broth, the remaining 1/2 teaspoon garlic powder, and remaining 1/4 teaspoon pepper to a boil. Reduce heat to low, then add roast beef. Cook 1 minute, or until beef is warmed through.
Place beef evenly in each roll, then top with roasted red peppers and fried Lollipops kale sprouts. Serve with broth in a bowl for dunking.