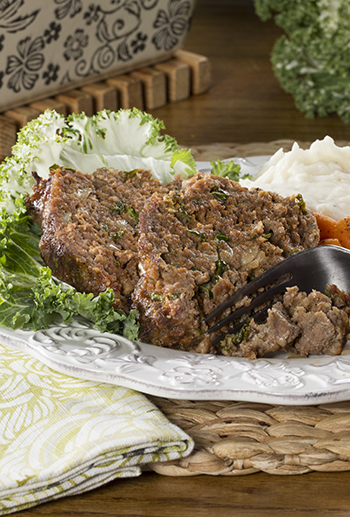 4 servings
2 pounds ground beef
2 cups finely chopped Tasty Tuscany® kale
1/2 cup finely chopped onion
1/2 cup Italian bread crumbs
3/4 cup ketchup
1 egg, lightly beaten
1 1/2 teaspoons chopped fresh rosemary
1 teaspoon garlic powder
1 teaspoon salt
1/2 teaspoon black pepper
Preheat oven to 350 degrees F. Coat a 9- x 5-inch loaf pan with cooking spray.
In a large bowl, combine all ingredients; mix well. Press mixture into prepared pan.
Bake 60 to 65 minutes, or until no longer pink in center. Let stand 10 minutes, then slice and serve.