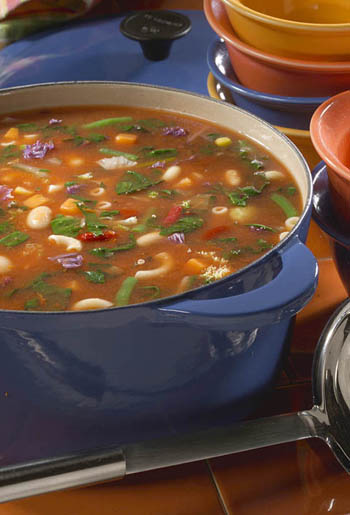 10 to 12 servings
Minestrone soup has been a classic favorite in Italian cooking for ages. When you add Steamin' Greens to the mix, it becomes not only extra-hearty, but extra-scrumptious! Why, a serving of this soup is sure to bowl you over
4 cups Steamin' Greens, chopped
3 cans (14 ounces each) ready-to-use beef broth
1 can (15 ounces) red kidney beans
1 can (14 to 16 ounces) cannellini beans (white kidney beans)
1 can (28 ounces) crushed tomatoes
1 small onion, chopped
1 package (10 ounces) frozen mixed vegetables
1 teaspoon garlic powder
1-1/2 teaspoons salt
1/2 teaspoon black pepper
1 cup uncooked elbow macaroni
Grated Parmesan cheese (optional)
In a soup pot, combine all the ingredients except the macaroni and Parmesan cheese. Bring to a boil over medium-high heat then add the macaroni. Reduce the heat to low and simmer for 30 minutes, or until the macaroni is tender.
Serve topped with a sprinkle of Parmesan cheese, if desired.
GREAT GO-ALONG:
You'll want to serve crusty Italian bread with this one so your family can sop up every last bit of tasty soup.