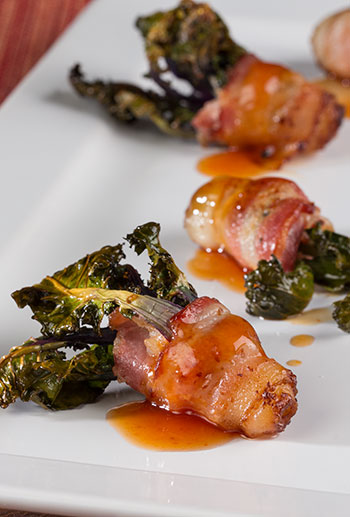 Serves 8 (yields 24 rollups)
12 slices bacon, cut in half
1/2 pound Lollipops® kale sprouts washed and stems trimmed (about 24)
3/4 cup ketchup
3/4 cup white vinegar
1 cup light brown sugar
Preheat the oven to 425 degrees F. Coat 2 baking sheets with cooking spray.
Wrap a piece of bacon securely around half of the kale sprout, leaving flowering ends uncovered. Place on a baking sheet and bake 15 to 20 minutes or until bacon is crisp.
Meanwhile, in a small saucepan combine ketchup, vinegar and brown sugar. Bring to a boil over medium heat, stirring occasionally. Remove from heat and drizzle sauce over kale sprouts. Serve immediately.