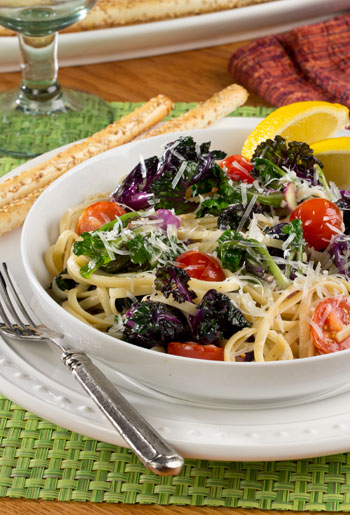 Serves 4
1 pound linguine
3/4 cup (1-1/2 sticks) butter
2 tablespoons olive oil
10 garlic cloves, minced
1 teaspoon salt
1/2 teaspoon black pepper
1 pound kale sprouts (Lollipops), washed and stems trimmed
1 (12-ounce) container cherry tomatoes, halved
2 tablespoons lemon juice
Parmesan cheese for sprinkling
Cook and drain linguine according to package directions; keep warm.
Meanwhile, in a large skillet, melt butter and heat oil over medium heat. Add garlic, salt, pepper, and kale sprouts, and saute 4-5 minutes or until wilted, stirring occasionally.
Stir in tomatoes and lemon juice and cook for 1-2 minutes, or until heated. Serve immediately over warm linguine, and sprinkle with Parmesan cheese.
Note: You can substitute the linguine pasta for any other pasta you have on hand!