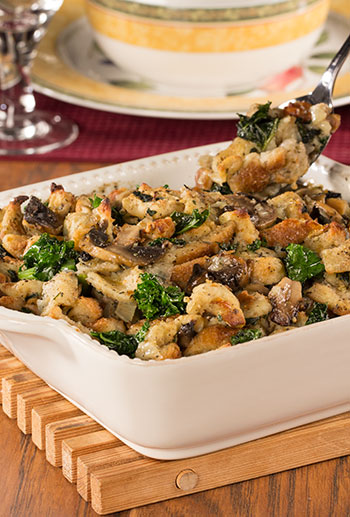 8 servings
20 slices white bread, toasted and cut into 1-inch cubes
1/2 cup (1 stick) butter
2 tablespoons vegetable oil
1 onion, chopped
8 ounces mushrooms, sliced
3 cups chopped Salad Savoy®
1 teaspoon rubbed sage
1/2 teaspoon dried thyme leaf
1/2 teaspoon garlic powder
1/4 teaspoon black pepper
1 1/4 cups chicken broth
Preheat oven to 375 degrees F. Coat a 3-quart casserole dish with cooking spray. Place bread cubes in a large bowl; set aside.
In a large skillet over medium-high heat, melt butter with oil. Add onion and mushrooms;cook 5 to 7 minutes, or until soft. Stir in kale and continue cooking 3 to 4 minutes, or until kale begins to wilt.
Add vegetable mixture to bread cubes. Add remaining ingredients; gently stir until well combined. Spoon into casserole dish.
Cover and bake 20 minutes. Uncover and bake an additional 15 to 20 minutes, or until heated through.