Salad Savoy®, the namesake of our company and the first vegetable marketed by Salad Savoy Corp., is a one-of-a-kind veggie that grows in bright violet and white heads. There's so much more to enjoy about this versatile vegetable.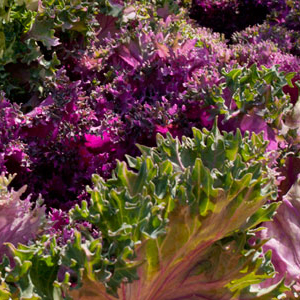 What Makes Salad Savoy® Special:
HERITAGE: Salad Savoy® is related to kale and cabbage, with a flavor that mildly resembles cauliflower, broccoli, and cabbage.
COLORIFIC™ FRESH VEGETABLES: Available in vibrant shades of violet or white.
TASTE: Adds mellow flavor to any dish, whether used raw or cooked.
NUTRITION: Loaded with Vitamins A and C, along with plenty of calcium and iron.
STORAGE: After easily separating the leaves from the core, the leaves can be washed in cold water, dried, and refrigerated. It will maintain its crisp texture and color for many days.
AVAILABILITY: Since Salad Savoy® is available year-round, it's ready when you are, and can be served for any holiday or occasion.
VERSATILE: Jazz up an everyday breakfast, lunch or dinner with our colorful greens, as demonstrated by busy moms and celebrated chefs alike.
HISTORY: Developed in 1983 by produce grower John Moore, Salad Savoy® is a cross of kale with other members of the Brassica genus. If you like kale, broccoli, cabbage or cauliflower, you will love Salad Savoy®!