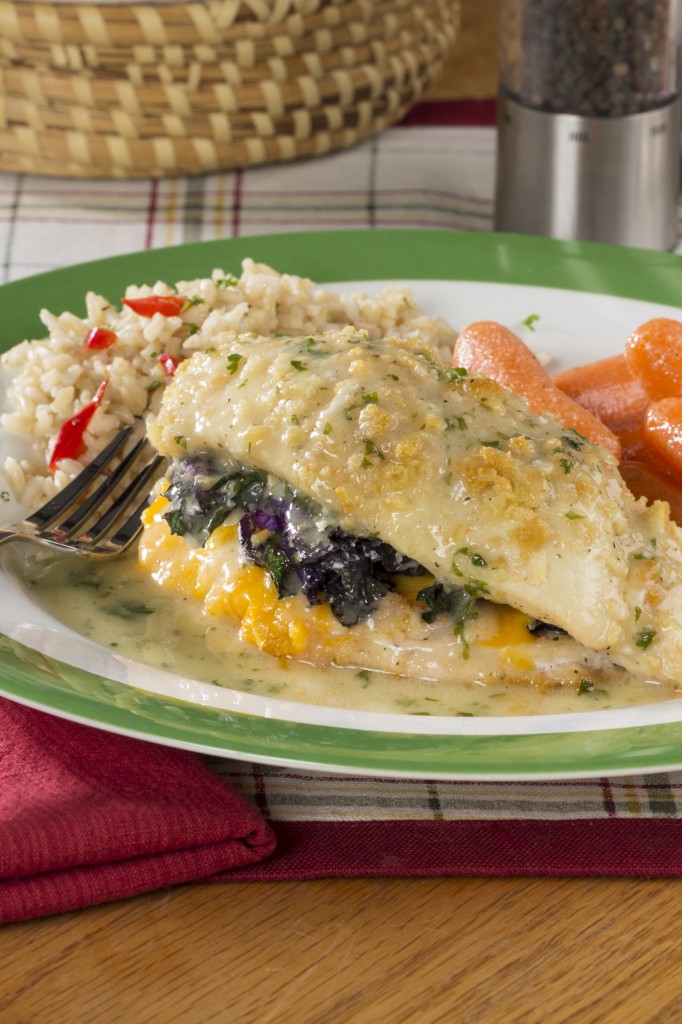 Serves 4
10 butter flavored crackers
2 teaspoons butter, melted
6 tablespoons butter
4 boneless, skinless chicken breasts, butterflied (See Note)
1/2 cup shredded Cheddar cheese
1/4 pound Lollipops® kale sprouts, washed and stems trimmed (about 12)
4 cloves garlic, minced
1 teaspoon chopped fresh parsley
2 tablespoons lemon juice
1/8 teaspoon salt (plus additional for sprinkling)
1/8 teaspoon black pepper (plus additional for sprinkling)
1 teaspoon all-purpose flour
Preheat oven to 350 degrees F. Coat a 9- x 13-inch baking dish with cooking spray. In a resealable plastic bag, crush crackers, add 2 teaspoons melted butter, mix and set aside.
Place chicken breasts on a flat surface, open them up like a book then lightly sprinkle both sides with salt and pepper. Sprinkle 2 tablespoons cheddar cheese on one half of each chicken breast and top each with 3 kale sprouts.
Fold over top half of each chicken breast; carefully place stuffed chicken breasts in baking dish. Sprinkle cracker mixture evenly over chicken. Bake 25 to 30 minutes, or until chicken is not longer pink in the center.
Meanwhile, in a small saucepan over low heat, melt 6 tablespoons butter. Add garlic, parsley, lemon juice, 1/8 teaspoon salt, 1/8 teaspoon pepper and flour. Mix well and heat until thickened and hot. Drizzle over chicken and serve.
Note: To butterfly your chicken breasts, just place them on a flat board and place your hand on top. Using a sharp knife, carefully cut horizontally three fourths of the way through the chicken breast, so it opens like a book.