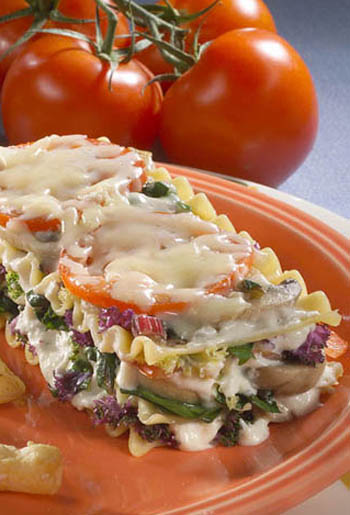 6 to 9 servings
Adding Steamin' Greens to everyday lasagna is a great way to give it a garden-fresh twist. Just you wait – when greens are made this way, even the kids will love eating them!
8 cups packed and chopped Steamin' Greens
9 lasagna noodles
3 tablespoons olive oil
1 medium onion, chopped
3 garlic cloves, minced
1 pound sliced fresh mushrooms
1/8 teaspoon ground nutmeg
1/2 teaspoon salt
1/2 teaspoon black pepper
1 jar (16 ounces) Alfredo sauce
1 container (15 ounces) ricotta cheese
1-1/2 cups shredded mozzarella cheese, divided
1 cup grated Parmesan cheese, divided
3 medium tomatoes, thinly sliced
Cook the lasagna according to the package directions; drain. Preheat the oven to 350°F.
In a large skillet, heat the olive oil over medium heat. Add the onion, garlic, and mushrooms, and sauté for 2 to 3 minutes, or until the onion is tender. Add the Steamin' Greens and reduce the heat to medium-low; cover, and cook for 10 minutes, or until the vegetables are tender. Stir in the nutmeg, salt, and pepper.
Meanwhile, in a medium bowl, combine the Alfredo sauce, ricotta cheese, 1/2 cup mozzarella cheese, and 1/2 cup Parmesan cheese; mix well.
In a 9″ x 13″ baking dish, layer one-third of the sauce mixture, 3 noodles then one-third of the vegetable mixture and one-third of the sliced tomatoes. Repeat the layers 2 more times, ending with sliced tomatoes. Cover with aluminum foil and bake for 1 hour.
Remove from the oven and uncover; sprinkle the remaining 1/2 cup Parmesan cheese and 1 cup mozzarella cheese over the top and bake uncovered for 5 minutes, or until the cheese is melted.