Carnival® Multi-Color Cauliflower is yet another colorful vegetable from Salad Savoy Corp., the home of Color, Taste & Nutrition. Utilizing unique growing and packing methods, our colorful cauliflower can be enjoyed throughout the year.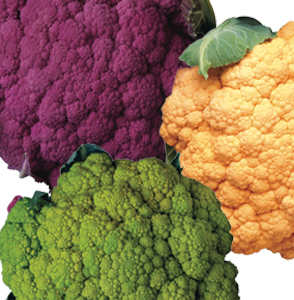 What Makes Carnival® Multi-Color Cauliflower Special:
KID-FRIENDLY: Carnival® Multi-Color Cauliflower has the nutrition of cauliflower in fun colors the whole family will enjoy. Kids will want to eat their veggies!
ARTFUL PLATES: Colors can be mixed and matched, turning ordinary meals into extraordinary masterpieces, a plus for high-end restaurants looking to wow their customers!
COLORIFIC™ FRESH VEGETABLES: Three different colors are included in every box, ranging from deep purple, and vibrant orange to a rich green.
VERSATILE: Adds healthy, gourmet flair to almost any dish. Simply steam and add to your favorite soups and pasta dishes.
NUTRITION: Our is a great source of vitamins C and B6 and high in folate and potassium.