Lollipops® is the newest gourmet offering from Salad Savoy Corp. It is a fork-sized vegetable that is a cross between Red Kale and Brussels sprouts. Thanks to its petite size and delicate look, it can be used in a variety of ways, often popping up in high-end, white tablecloth restaurants. Consumers with discriminating tastes will also appreciate this unique product.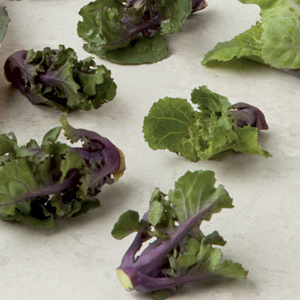 What Makes Lollipops® Special:
NUTRITION: Just 4 oz. of Lollipops® contain double the amount of Vitamin B6 and twice the amount of Vitamin C than standard Brussels sprouts.
VERSATILE: Lollipops® can be sautéed, steamed, or stir-fried, making it the perfect addition to nearly any meal. They can also be used raw as a complement to salads.
STORAGE: Outstanding shelf-life results in less shrinkage and waste, giving you more bang for your buck!
CONVENIENT: Shipped in small containers, which minimize refrigeration space and maximize efficiency.
HIGH PRAISE: My dish has baby Tuscan kale pesto and sauteed lollipop kale…It's a great vegetarian dish that works really well for the summertime," says Chef Daniel Roberts at Cafe del Rey, in Marina del Rey, California.