Remember the saying "Two heads are better than one"? Well, it's never been more appropriate than with Steamin' Greens®. We've packaged bite-sized pieces of Salad Savoy® and Bright Lights® together to create this magnificent combination. It's perfect for when you're short on time, but still looking for a beautiful plate and a delicious taste.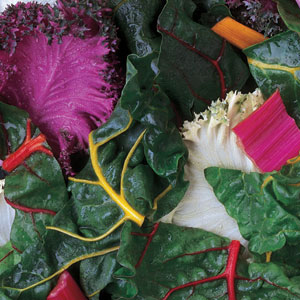 What Makes Steamin' Greens® Special:
TASTE: Salad Savoy® and Bright Lights® come together to make this excellent mix!
COLORIFIC™ FRESH VEGETABLES: This mix is one of the most colorful products we have with pieces ranging from gold and orange to pink, red, violet, and white.
FUSS-FREE: Packed in a poly bag, Steamin' Greens® loose leaves are ready to cook or serve right out of the bag!
VERSATILE: With a bag of Steamin' Greens® on hand, you can jazz up a veggie side dish, pasta, salad, soup, or center-of-the-plate protein.
NUTRITION: Loaded with Vitamins A and C, along with plenty of calcium and iron.