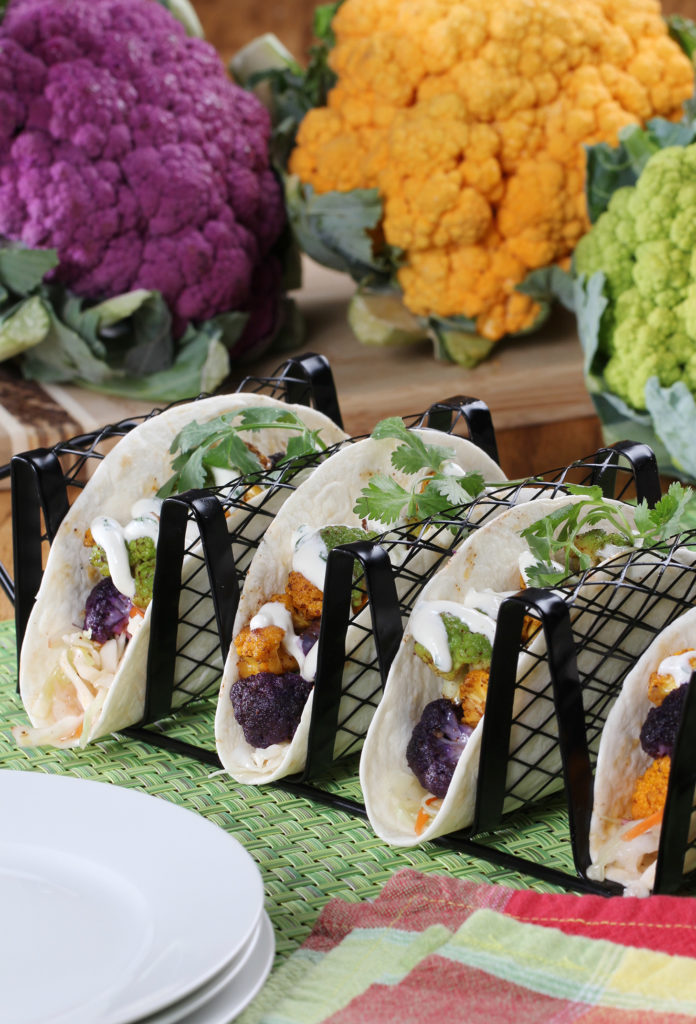 Serves 4
1/4 cup mayonnaise
1/4 cup sour cream
2 tablespoons chopped fresh cilantro
1 tablespoon lime juice
3/4 teaspoon salt, divided
3 cups shredded coleslaw mix
3 tablespoons rice wine vinegar
3 tablespoons vegetable oil, divided
1/2 teaspoon chili powder
1/2 teaspoon ground cumin
3 cups multi-color cauliflower florets, cut into bite-size pieces (see Note)
8 (6-inch) flour tortillas, warmed
In a small bowl, combine mayonnaise, sour cream, cilantro, lime juice, and 1/2 teaspoon salt; mix well and refrigerate until ready to use.
In another bowl, combine coleslaw, vinegar, and 1 tablespoon oil; toss until evenly coated and set aside.
In a medium bowl, add remaining 2 tablespoons oil, the chili powder, cumin, and remaining 1/4 teaspoon salt; mix well. Add cauliflower and toss until evenly coated.
In a large skillet over medium heat, cook cauliflower, covered, 5 minutes or until tender, stirring occasionally. Place coleslaw evenly down center of tortillas, then top with cauliflower and cilantro sauce. Serve immediately.
Note: Multi-color cauliflower makes these extra fun! We suggest using a variety of colors like purple, orange, and lime green cauliflower.