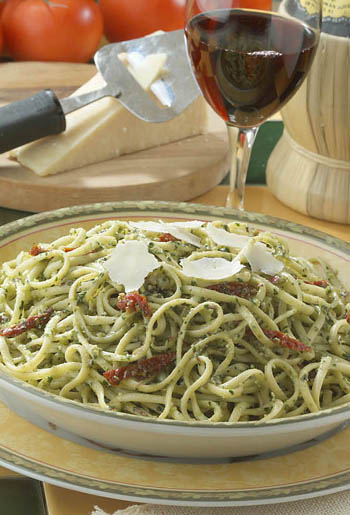 4 to 6 servings
A new generation of Swiss chard, Bright Lights is a vegetable that really proves the saying, 'We eat with our eyes!' Its stems are any of a variety of colors from gold and white to orange, pink, and red, and give everything from our salads to pasta dishes a whole new look. Wait 'til you see how it transforms itself in this delicious pesto!
2 cups chopped and lightly packed Bright Lights
1 pound linguine
1 cup olive oil
1 cup grated Parmesan cheese
4 garlic cloves
1/2 cup walnuts
1 teaspoon salt
1/2 cup reconstituted sun-dried tomatoes, cut into strips
Cook the linguine according to the package directions; drain.
Meanwhile, in a blender or food processor, combine all the remaining ingredients except the sun-dried tomatoes; blend until smooth.
In a large bowl, toss the linguine with the pesto sauce and sun-dried tomatoes. Serve immediately.
SERVING SUGGESTION:
Top with additional shaved Parmesan cheese, if desired.