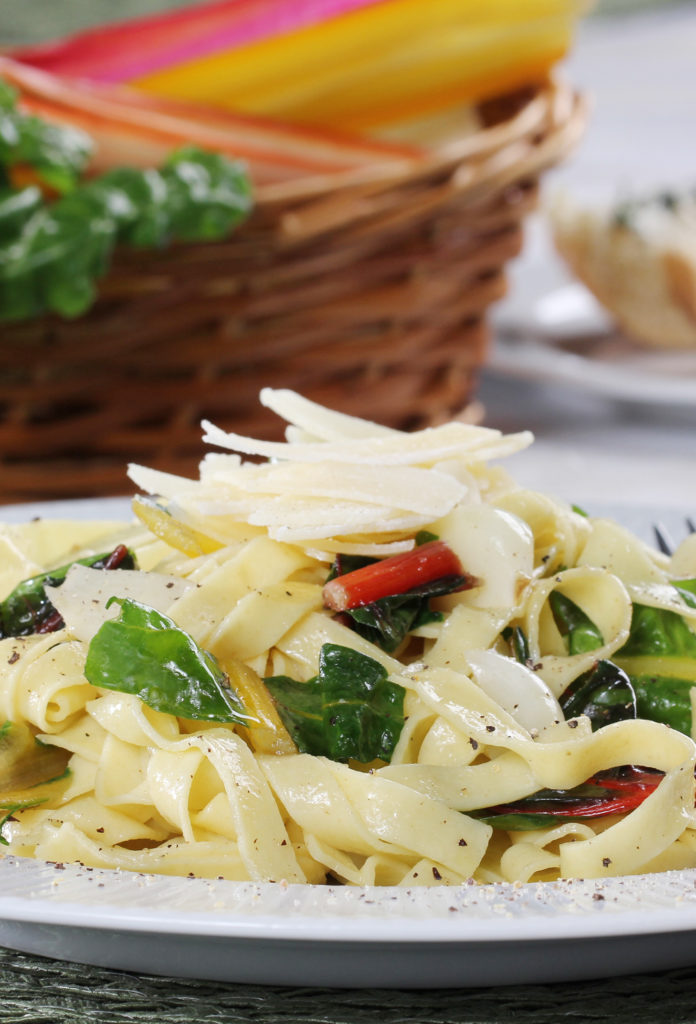 Serves 3
1 (9-ounce) package refrigerated fettuccine pasta
6 tablespoons butter
1 tablespoon olive oil
3 large stalks rainbow Swiss chard, cut into 1-inch pieces
3 cloves garlic, thinly sliced
1/2 teaspoon salt
1/4 teaspoon black pepper
1/4 cup shaved Parmesan cheese
Fill a medium saucepan halfway with water and bring to a boil over high heat. Add pasta and cook 3 to 4 minutes or until tender; drain.
Meanwhile, in a large skillet over medium-high heat, melt butter with oil; sauté Swiss chard, garlic, salt, and pepper 4 to 5 minutes or until Swiss chard is tender.
Add pasta to skillet and cook 1 to 2 minutes or until heated through. Toss until evenly coated and top with Parmesan cheese. Serve immediately.
Note: Can't find refrigerated fettuccine pasta? Dried fettuccine pasta from a box will also work. Just make sure it's cooked according to package directions first.